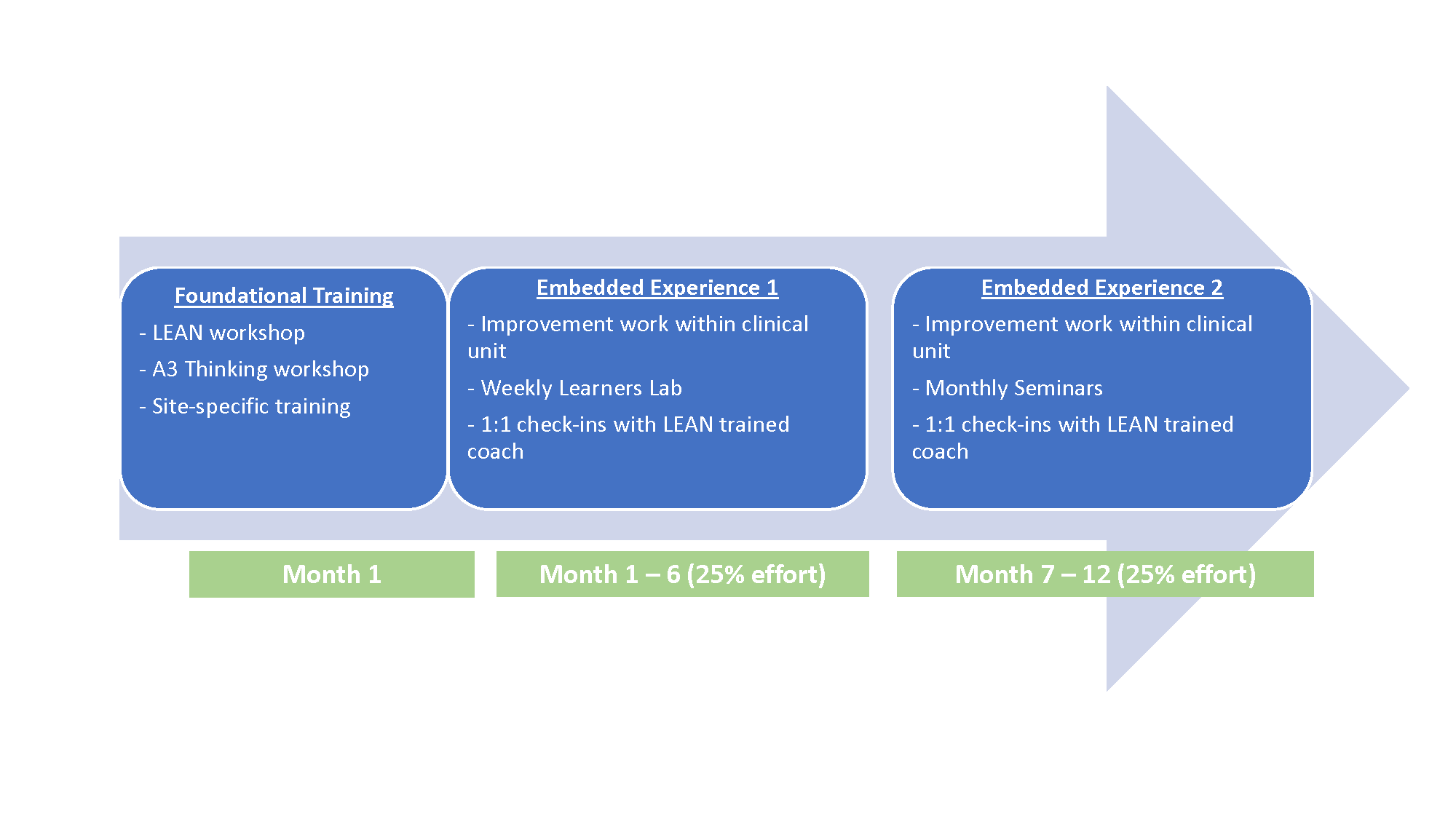 Overview
Through the Embedded Healthcare Delivery Experience, scholars will work with leaders and staff in clinics, medical units and departments to apply quality improvement and implementation science frameworks in order to understand and address specific clinical, social and practice operations factors that may impede or facilitate adoption of an evidence-based intervention. The scholars will receive specific training in LEAN and A3 thinking and apply methodologies from these approaches to evaluate and facilitate change within the unit-based system. This training will include:
Methods for developing a systematic approach for identifying root causes (A3 Thinking)
Creating an environment for incorporating improvement as part of the daily work (Active Daily Engagement)
Applying data metrics to drive improvement (Data Analytics)
As future healthcare leaders, scholars will also receive leadership training and coaching to learn how to effectively use their own strengths to effect change.
Training
Foundational Training (2 Weeks)
LEAN course (16 hours of training delivered over week 1)
2-day A3 Thinking course 
Site Specific Improvement Specialist Training
Meet with leadership team from identified unit 
Learning Lab (Just-in-time Training) (Months 1-6)
Weekly to every two weeks training in specific metrics that occurs over the course of the embedded experience
1-2 hrs in length
Structured as Work In Progress (WIP) sessions 
Clinical Improvement Seminars (Months 6-12)
Monthly seminars for advance training and methods on process improvement
Examples of trainings include: Data analytics, performance evaluation, data visualization, Business Intelligence (relevant to Domain 4, optional?) 
Embedded Experience (Months 2-12)
 In addition to Weekly Learner Labs (Months 1-5) and Seminars (Months 6-12), scholars are expected to spend at least 25% of their time on their site-specific project
1:1 weekly check-ins with site coach to work through unit-specific challenges
Scholars are expected to complete 1-2 improvement cycles over the course of year