Message from the Chair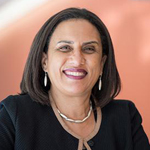 Dear DEB Community,
I hope all of you are managing well as wildfires threaten our neighbors' homes, and power outages disrupt some of our daily lives.
The weight of these events hangs over what has otherwise been an incredibly inspiring couple of months. Thanks to all of you who participated in the immigrant health symposium on Thursday, October 24. We had a big turnout, and the range of clinical and research efforts across UCSF helping immigrant patients was awe-inspiring.
A ton of work went into making this event a success. I'll give just a few shout-outs here: Bob Hiatt, who co-chaired the event; the hands-on steering committee that included Courtney Lyles, Jackie Torres and Jaime Sepulveda; and Alice Fishman, who has provided outstanding support for the population health program. Event staff, including Liz Buggs, Riya Desai and Amanda Schwerin, worked hard all day and did a fantastic job.
Thanks are also due to those of you who are participating in the department's efforts to embrace and embody UCSF's commitment to diversity, equity and inclusion through the seminars led by Meghan Morris and LaMisha Hill. This work will improve the DEB community for all of us.
And against that backdrop, the influential publications have continued to pour out and you all continue to be fantastic mentors. It's an honor to represent this department.
Thank you!
Kirsten
P.S. Save the date for our Winter Holiday party on Friday, Dec. 6!