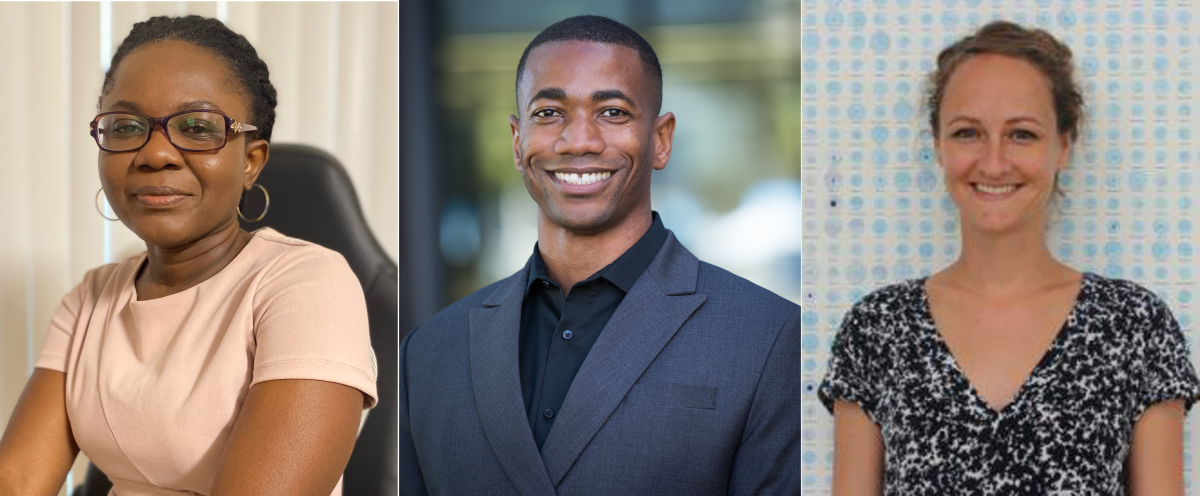 The UCSF School of Medicine recently announced the 2022 Class of Deans' Population Health and Health Equity (PHHE) Scholars. These awards are made to junior faculty working in the area of population health or health equity, broadly defined. Congratulations to our DEB recipients!
---
Patience Afulani, PhD, MD, MPH, School of Medicine, Department of Epidemiology and Biostatistics and IGHS Core Faculty
Proposal title: Adaptation and validation of a person-centered prenatal care scale for low- and middle-income countries
Abstract: Person-centered care, which refers to care that is respectful and responsive to people's preferences, needs, and values, is a key component of quality of care. In the last five years, my work has focused on research to advance measurement, identify barriers and facilitators, and develop interventions to improve the quality of care during pregnancy and childbirth, focusing on person-centered care. As part of this work, I led the development and validation of a scale to measure person-centered maternity care in Kenya, Ghana, and India. This scale has had widescale uptake and is being validated in several other settings. There are, however, still no validated scales for measuring person-centered prenatal care in low- and middle-income countries (LMICs). The Population Health and Health Equity Scholars award will help to bridge this gap by enabling me to adapt and validate a person-centered prenatal care scale for LMICs.
About Dr. Afulani: Dr. Afulani's research focuses on the social and health system factors underlying disparities in reproductive, maternal, neonatal, and child health (RMNCH). She is particularly interested in how RMNCH outcomes are shaped by quality of care in health facilities as well as by social determinants. Dr. Afulani also seeks to contribute to improved measurement of quality of care, particularly person-centered care, and to the development of evidence-based interventions to improve RMNCH outcomes and reduce disparities.
---
Paul Wesson, PhD, School of Medicine, Department of Epidemiology and Biostatistics and IGHS Core Faculty
Proposal title: Investigating psychiatric and neighborhood-level inequities in the HIV continuum of care in San Francisco
Abstract: As San Francisco (and similar "Fast Track Cities") continues to make overall gains in preventing new HIV infections and improving treatment outcomes for people living with HIV, population health researchers must be vigilant against emerging and widening disparities among disadvantaged populations. People with severe mental illness (SMI) face up to a 10-fold higher probability of HIV acquisition compared to people without SMI, although evidence is mixed regarding worse outcomes in the HIV continuum of care for this population. This study seeks to fill this gap in the literature through leveraging a recently constructed retrospective cohort of people living with HIV (PLWH) in San Francisco to statistically model and test for differences in HIV care engagement outcomes for PLWH with SMI compared to PLWH without SMI. Results from this analysis and others using this cohort will inform targeted interventions to reduce emerging inequities in HIV care.
About Dr. Wesson: Dr. Wesson is an epidemiologist focused on quantifying the health burdens of (and disparities related to) hard-to-reach and socially marginalized populations, particularly as they relate to infectious diseases. His research expertise includes developing and using data driven methods for sampling hard-to-reach and "hidden" populations, population size estimation methods, and using advanced epidemiologic and statistical techniques to study the social determinants of health. As an HIV researcher, Dr. Wesson's research agenda relates to the unique challenges of sampling hard-to-reach populations for HIV surveillance, and leverages information from the sampling process (and survey data) to generate estimates of the population size.
---
Jennifer Smith, PhD, School of Medicine, Department of Epidemiology and Biostatistics and IGHS Faculty Affiliate
Proposal title: Integration of antenatal neglected tropical disease surveillance with ongoing malaria testing in Tanzania
Abstract: Globally, the poorest populations bear the largest burden of disease from parasitic infections including malaria and neglected tropical diseases (NTD), like soil transmitted helminths (STH) and schistosomiasis. Relatively high uptake of antenatal care suggests that surveillance in pregnant women may be a convenient and accurate way to gather high resolution data on about disease transmission in the community at large, and improve intervention coverage in this vulnerable group. The proposed project will integrate antenatal surveillance for schistosomiasis and STH with ongoing malaria testing at two health facilities in Tanzania, where an NIH funded clinical trial tracking malaria infections in a cohort of children will be underway. Malaria and NTD test results during antenatal care will be compared to those in children to assess the use of antenatal surveillance for measuring malaria trends and to generate high resolution spatial data on schistosomiasis to improve targeted and tailored intervention strategies.
About Dr. Smith: Dr. Smith's research focuses on the epidemiology of infections diseases of public health significance in developing countries, including schistosomiasis, soil-transmitted helminthiases, lymphatic filariasis and trachoma. For the last several years, Dr. Smith's research has been focused on malaria, particularly surveillance and response in elimination settings. She has significant experience in conducting field studies in resource-limited and rural settings as well as leading and managing multi-cultural teams of researchers. Dr. Smith also provides technical assistance to a number of non-governmental organizations to support study design, data analyses, mapping and manuscript writing.
---
View the full list of recipients here.