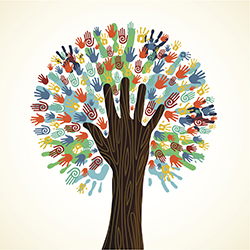 Diversity means understanding that each individual is unique, and recognizing our individual differences. These can be along the dimensions of race, ethnicity, gender, sexual orientation, socio-economic status, age, physical abilities, religious beliefs, political beliefs or other ideologies.
The Department of Epidemiology & Biostatistics' Committee on Diversity, Equity and Inclusion aims to increase understanding and effective collegiality within our department. The committee has diverse representation in terms of gender, race/ethnicity, seniority, and area of expertise (education, research, clinical care) and includes members of our faculty, staff, and trainee population. 
Current committee members include: 
Meghan D. Morris, Chair
Iona Cheng
Kristina Dang
Madelaine Faulkner
Christian Leiva
Felix Liu
Georgina Lopez
Suzanna Martinez
Kala Mehta
Asha Robertson
Susan Rubin
Anna Rubinsky
Cameron Scott
Starley Shade

Committee on Diversity, Equity and Inclusion Vision: To enhance the diversity and inclusiveness of our training, research and practice communities in order to better achieve our department's vision to advance population health worldwide.
Mission: To promote and advance inclusion and community among DEB members by providing necessary resources to meet individual and collective needs, while attracting and retaining DEB members from diverse backgrounds. To foster an environment that enables all members to feel empowered, valued, respected and safe.
Goals:
Increase the number and success of female and ethnic/racial URM researchers at all career stages  (students, post-doctoral fellows, non-faculty academic researchers, assistant, associate and full professors) through targeted recruitment and retention strategies and revised selection and promotion processes.
Improve the learning environment for trainees, research and administrative staff, and faculty by enhancing mentorship and culture of inclusion
Increase visibility and opportunities for female and ethnic/racial URM research faculty in the department and externally
Increase gender and ethnic/racial diversity of seminar speakers
Increase knowledge and skills to engage respectfully with peers
Increase opportunities for staff and non-faculty academic department members to advance; increase the representation of female and ethnic/racial URM constituents holding paid leadership positions and executive staff positions
Increase scholarship related to health disparities research and policies to enhance equity
Evaluate progress toward diversity, equity, and inclusion goals 
If you are interested in working with the committee or have an idea to share, email [email protected].
Learn more about the Journal Club in Social Justice Epidemiology