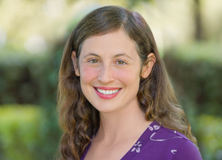 When did you begin at UCSF?
I started July 1, 2017, as an STD Fellow. I became EpiBiostats faculty at the very, very beginning of 2020. I remember being at my first all-staff meeting, and I was very eager; it was March 8 and we were talking about Covid.
Can you give us a picture of your research and your clinical work?
I like to say I have a polyamorous non-monogamous job. I do a lot of different things; I love all of them, and they're all rooted in sexual health and sexual health equity. At the California Department of Public Health, I'm a public health medical officer focusing on congenital syphilis, which is syphilis during pregnancy – it can be passed through the placenta to the fetus. I do surveillance and programming, and that's mostly where my epidemiology focus is.
I do a little bit of research around anal cancer, which has more to do with screening guidance right now and less to do with epidemiology.
I also see patients at the anal cancer screening clinic, similar to how people would go to a gynecologist to get screened for cervical cancer. They're analogous cancers, both caused by human papillomavirus. People who have receptive anal sex, people who are living with HIV, and people who've had cervical or vulvar cancer are all at risk for anal cancer. So, all of my work is related to sexual health, just in different ways. And there's a big focus on access to sexual health care from a health equity standpoint as well, because there are major, major disparities in terms of who is impacted by different sexually transmitted infections (STIs).
And then I'm also interested in medical education. I've been working on a virtual reality training module on how to do a pelvic exam for early medical trainees, just to kind of get them when they're young, and teach them how to do speculum exams. Doing your first pelvic exam can be a little anxiety producing, and that's why it's helpful that have a virtual reality way to rehearse it before you do one with a live patient.
I do a lot of teaching about STIs through the California Prevention Training Center. I also work with the preventive medicine residency, which is housed in the department of EpiBiostat, and this year I'm the acting program director for the residency that George Rutherford normally directs, so I do get to work a lot with residents. That's also amazing work.
What excites you about your work?
Everything! I love that I'm able to do a really wide variety of things, and I like the diversity of the different types of work that I do. I think it's rare to be able to exercise all of those muscles. I really, really find it gratifying to do something that's having an impact on people's sexual health and sexual health lives. That's something I've always cared a lot about – are people having happy, healthy sex lives. Being able to work on that every day in some capacity is really amazing. Seeing patients is gratifying and grounds the more high-level work that I do. I mean, numbers are always interesting, but working directly with people who are benefiting from what you're doing is just such an amazing feeling.
Why UCSF?
I was in New York for about 10 years before this, and as soon as I got here, I hated it. I told my friends, there are hardly any people here! There's nothing here but flowers – it's horrible! It's not hot enough; it's not cold enough. There are no seasons, and no one here is funny. Where is the sarcasm? I wanted to go back.
But UCSF has given me a way to grow in a way I never could have at any other institution. I feel very, very, very proud of the department that I'm a part of, and I am completely aligned with its values. It's very rare to feel like your own values are being echoed in the institution you belong to.
The type of job that I've crafted is not something that you can just apply to somewhere. You need really good mentors. You need an open-minded working environment. And the epidemiology department has provided all that for me.
How did you get interested in sexual health and/or epidemiology?
The sexual health interest came first. When I was in junior high, I started to get involved in activism around LGBTQ rights. That was the nineties, so through that I became involved in a lot of HIV/AIDS activism.
I always kind of knew I was interested in public health, as soon as I found out what public health was – of course, I didn't find out until I was a senior in college or something! Then I wavered back and forth on whether I wanted to go to medical school or get an MPH or do public health law. I really deliberated about it and was lucky to eventually find the specialty that I'm in called preventive medicine, which is public health for doctors. I decided I wanted to treat patients, but in treating patients, you inevitably realize that you are still drawn toward making a larger systemic impact. Preventive medicine has let me do both.
Is there a non-academic accomplishment that you are proud of?
I'm very, very proud of the patients I take care of, and I feel like when they do well, it just makes my heart grow.
Do you have a favorite research paper?
I think the paper that I've written that I am proud of is a paper looking at the relationship between methamphetamine use, homelessness and congenital syphilis. I was pretty happy with how that paper came out. It demonstrated that you don't need to just assume that because someone has housing instability or because someone is using substances, they're not capable of coming to prenatal care and getting their treatment just like anyone else. Being able to show that point with data was really great. It's kind of science catching up with common sense, right? But I do think that being able to show with numbers that assumptions people make are incorrect is really powerful, especially when you we're trying to show that for groups who are typically discriminated against.
That's the paper that was the catalyst for starting a clinic that I'm working on now. I've been working with a county to create a clinic for people who could have syphilis when they're pregnant – they have epidemiologic risk factors. It's called Pregnancy Connections, based in San Joaquin County. It's in its second year, and it's CDC [Centers for Disease Control and Prevention] funded.
You know, it's one thing to have a paper and put it in a journal. But it's another thing to say, "And what are we going to do about it?" That's where the rubber meets the road, and that's one of the reasons I'm super, super proud of that paper.
What is a career goal that you have for, say, the next 5 years?
I would love to see congenital syphilis go back down to what it was in 2012. It's been increasing for the past decade, and I would love to get it back down to where it was because it's completely preventable! It's insanely simple medically; it's all of the social aspects of it that are complicated.
I'm working with a group called the International Anal Neoplasia Society to write guidelines, and I would love to see our guidelines published and widely available and used so that anal cancer screening becomes a standard of care for certain groups.
And I'd love to see UCSF have a virtual reality center for medical education, which is something I've been exploring. It's early days, but a lot can happen in 5 years, right?