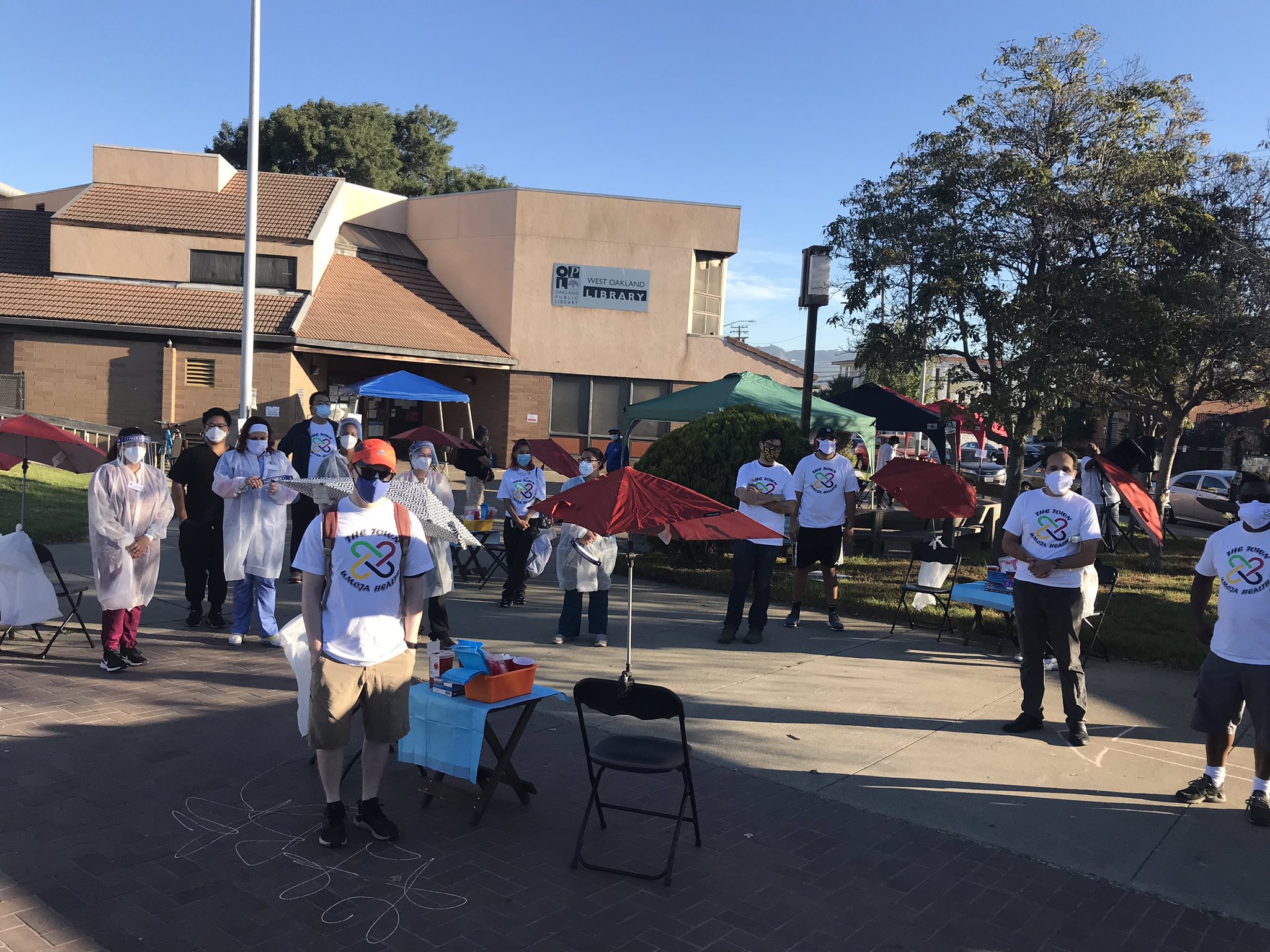 The COVID-19 pandemic has, in a common turn of phrase, "laid bare" the significant health disparities in the United States. Many are noticing the sizeable gap between the health outcomes of white and non-white people in the United States. But the gap is not new. In fact, in the decades that Kim Rhoads, MD, MS, MPH, has specialized in disparate outcomes in cancer, the gap has widened.
Rhoads, an associate professor of epidemiology and biostatistics, also leads community engagement at UCSF's Helen Diller Family Comprehensive Cancer Center. The National Cancer Institute (NCI) requires cancer centers to engage the Black, Latinx and Asian communities from which their patients come to qualify as "comprehensive," because disparities are an important feature of the cancer landscape.
After COVID-19 exploded onto the scene – sidelining much in-person medical treatment, and even some for cancer – Rhoads's community-based approach made her a valuable asset in efforts to slow the spread of the new virus. As soon as the first demographic data emerged on COVID-19 cases, it was clear that Latinx and Black communities were harder hit.
UCSF organized a mass testing event in May at the historically Latinx Mission District to begin to assess how disparities were playing out in San Francisco, using a COVID-19 test designed at UCSF. The data gathered showed that COVID-19 infection was far more common among Latinx residents than their white neighbors, spurring local and state efforts to offer support during isolation and quarantine for essential workers, non-English speakers and large households.
With these numbers in hand, there was reason to believe San Francisco's traditionally Black southeastern neighborhoods would also have high rates of positivity. Rhoads stepped in to co-lead a free testing event in the historically Black Bayview Hunters Point and Sunnydale neighborhoods in the final days of May and first days of June. We now know that since the start of the pandemic, Bayview Hunters Point has seen more cases per capita than any other neighborhood in the city. But on the last weekend in May, less than a third of those who showed up for testing were Black.
Something was missing in UCSF's efforts to reach out to this community.
As a veteran of disparities work, Rhoads is keenly aware of the limitations of the conventional research-based model of addressing disparities in access and outcomes. This work relies on small proof-of-concept pilot projects. Researchers then publish evidence that their intervention led to incrementally better access or outcomes. The work of scaling up and implementing the approach is left for other parties and another day – a day, as COVID has shown, that never quite arrives. Testing was different, but it wasn't that different.
About a week after the Bayview testing event, a resident of the predominantly Black Sunnydale housing project, turned up positive for COVID-19 during testing at juvenile hall. Sunnydale housing managers, Drew Jenkins and Larry Jones, knew the young man had recently attended a large party. Fearing the housing unit would see a major outbreak, they reached out to Rhoads and the Rafiki Coalition, a nearby health and wellness center with whom Rhoads had previously worked.
Rhoads and Rafiki CEO, Dr. Monique LeSarre sprang into action, organizing a pop-up testing site for the annual Family Day event in Sunnydale. They put up a tent in the middle of the street. On the first day, more than a hundred people were tested, nearly 70% of them Black. Seven percent tested positive.
The San Francisco Department of Public Health joined the group, implementing a regular weekly pop-up testing site in Sunnydale. Testing first found 9% positivity, but the rate quickly dropped to 1%. Many think the ad-hoc efforts in Sunnydale quashed what could have been a significant cluster of infections.
Rhoads saw the difference between asking the community to come to health care facilities for testing and taking those services directly to the community. She leaned into that idea. For Rhoads, the key to reducing disparities is engaging historically marginalized communities over the long haul. There are no shortcuts to building trust.
So, Rhoads turned to established community partners to take the pop-up testing model to largely Black neighborhoods in Oakland. The group of community partners, known as Umoja Health, now staffs the non-medical volunteer roles that had tended to be filled by UCSF students and staff. As volunteers have been trained to avoid infection during testing, they also became models for pandemic best practices in their own communities, Rhoads said.
The testing sites have ceased to look like medical research and started to look, Rhoads said, "like community serving community."
"This work is not about producing data, it's about engaging the community," she explained. "If you want a different outcome you have to be willing to try something you haven't tried before."
With a different modus operandi, the pop-ups have tested people who had not yet been reached. And they've produced, perhaps despite themselves, some intriguing data: The rates of infection in the Bay Area's Black community are much lower than in the general population. Just 0.6% of the PCR tests and 2% of the antibody tests, which can detect previous infection, performed at the pop-up sites have been positive. Half of those tested self-identified as African American.
Those who get tested are also asked to complete surveys about their behaviors and attitudes related to the pandemic. Most report consistent mask use. While 71% of white respondents said they would get a COVID-19 vaccine, just 43% of Black respondents said they would. But nearly half of Black respondents said they were willing to participate in further research – higher than any other racial group – suggesting that deep community engagement pays off.