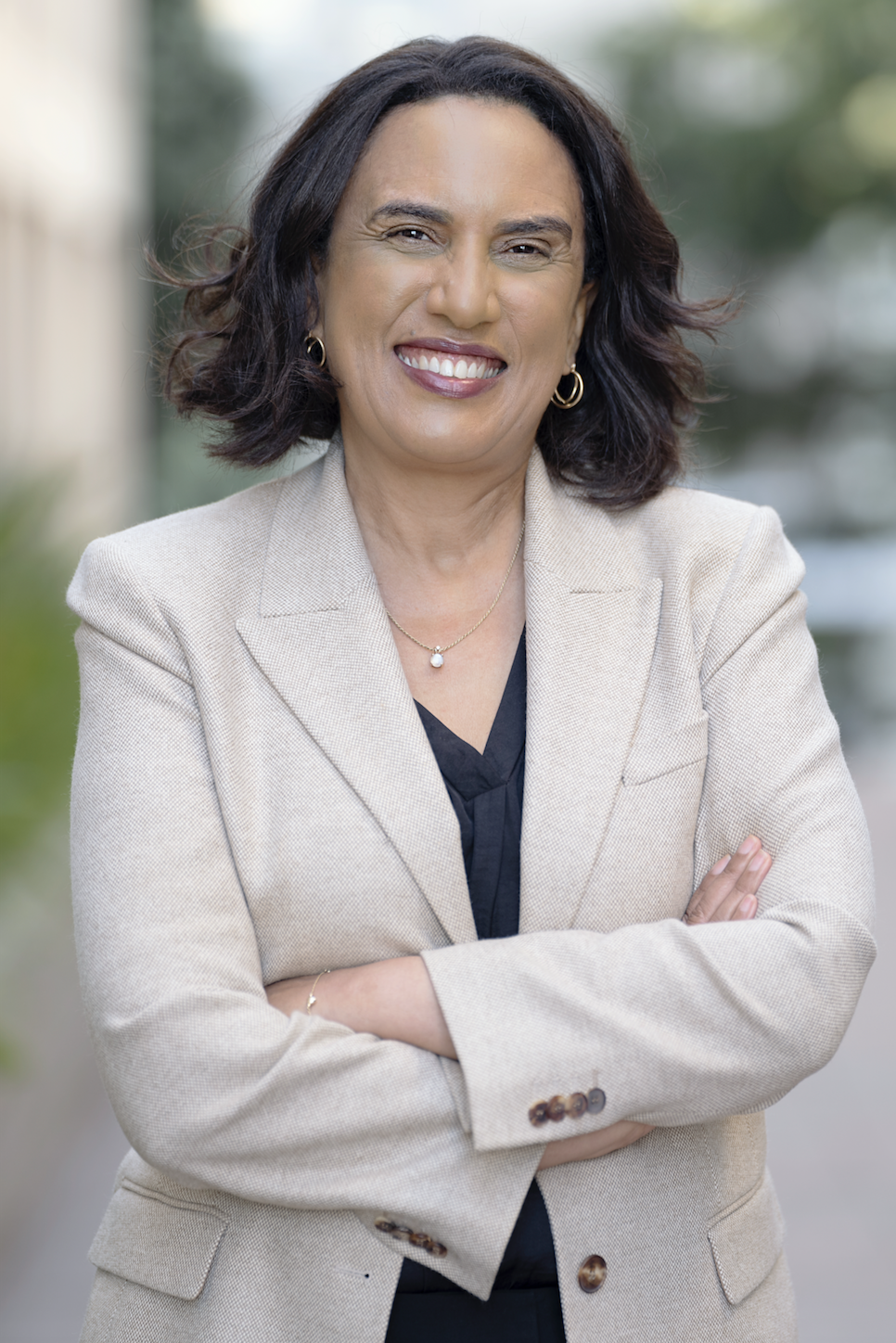 Kirsten Bibbins-Domingo, PhD, MD, MAS has announced she is stepping down as inaugural Vice Dean for Population Health and Health Equity and Chair of the Department of Epidemiology and Biostatistics at UCSF. She will join JAMA and the JAMA Network as editor in chief, effective July 1, 2022. Dr. Bibbins-Domingo will maintain her faculty appointment at UCSF. We will announce interim leadership in the coming weeks.
In addition to the aforementioned leadership roles, Dr. Bibbins-Domingo is the Lee Goldman, MD Endowed Chair in Medicine and Professor of Medicine at UCSF. She co-founded the UCSF Center for Vulnerable Populations at Zuckerberg San Francisco General Hospital, a center that conducts actionable research to advance health equity and reduce health disparities locally and nationally. 
Dr. Bibbins-Domingo graduated from Princeton University with a degree in molecular biology and the Princeton School of Public and International Affairs. After Princeton, she studied chemistry at the University of Ibadan in Ibadan, Nigeria before coming to UCSF to complete her PhD in biochemistry. Dr. Bibbins-Domingo earned her medical degree and completed her internship and residency in internal medicine at UCSF, as well as her general medicine fellowship and her MAS in clinical research. She joined the UCSF faculty as an assistant professor in 2004.
Dr. Bibbins-Domingo is a general internist, cardiovascular disease epidemiologist, and a national leader in prevention and interventions to address health disparities. She is an NIH-funded researcher focused on cardiovascular disease prevention, where she uses observational epidemiology, simulation modeling, and pragmatic trials to generate novel insights into how to prevent cardiovascular disease most effectively, particularly in high-risk populations. She has helped elucidate the factors that contribute to the development of cardiovascular disease in young adults, and in particular the earlier age at disease onset in many race/ethnic minority and low-income populations. 
Dr. Bibbins-Domingo's work has been published widely, including in the New England Journal of Medicine, the Journal of the American Medical Association, the Annals of Internal Medicine, the American Journal of Public Health, and Circulation. Her scientific contributions have been recognized through her election to the National Academy of Medicine, the American Society for Clinical Investigation, and the Association of American Physicians. She is a past chair of the U.S. Preventive Services Task Force, a national independent panel of experts in prevention that develops evidence-based guidelines for the use of clinical preventive services. She served on the Task Force from 2010-2017 as a member, vice-chair, and then chair.
Dr. Bibbins-Domingo is a devoted teacher and mentor who has worked extensively with trainees and junior faculty at UCSF and nationally, one-on-one and through programs including the CTSI K Scholars Program, SF-BUILD and the NHLBI-funded RISE program in implementation sciences. She is also committed to advancing public education on science and evidence-based medicine. In 2017, Dr. Bibbins-Domingo received the UCSF Chancellor's Award for Public Service, followed by the Distinguished Professor of Women and Medicine Award from the Society of General Internal Medicine and the Harold S. Luft Award for Mentoring in Health Services and Health Policy Research from the UCSF Philip R. Lee Institute for Health Policy Studies (both in 2019). Last year, she received the Distinguished Citizen Award from the Commonwealth Club of California.
As the inaugural Vice Dean of Population Health and Health Equity, Dr. Bibbins-Domingo developed an organizational strategy for integrating population health and health equity into all facets of our academic mission. She was responsible for convening leaders and faculty from UCSF School of Medicine departments, centers, institutes, and programs to create strategies to advance the science of population health and health equity; informing the conduct of clinical and translational research; disseminating this science in effective and innovative educational programs; and most importantly, accelerating the translation of this science into improvements in health and health equity within UCSF and other health care systems and more broadly into communities locally, nationally, and globally. 
During the pandemic, she led the UCSF COVID Community Public Health Initiative that coordinated efforts at UCSF to respond to the COVID crisis through community coalitions to increase access to testing, education, and vaccinations and active partnerships with state and local departments of public health. She co-founded the UC-CDPH COVID Modeling Consortium - a partnership across the University of California and the California Department of Public Health.
Please join us in thanking Dr. Bibbins-Domingo for her myriad contributions to the UCSF School of Medicine and for all her work advancing the science of population health and health equity.