The first four scholars in the Learning Health Systems (LHS) K12 Career Development Program were recently appointed. The LHS K12, a new program, supports the career development of scientists at UCSF and affiliate institutions who conduct patient-centered outcomes research (PCOR) within learning health systems in order to help accelerate the translation of research and evidence into practice. 
The four scholars are: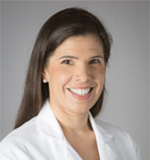 Tasce Bongiovanni, MD, MPP, MHS
Assistant Professor of Surgery

Effective July 1, Dr. Bongiovanni will be an assistant professor of surgery at UCSF. She completed her undergraduate degree in business at Santa Clara University, a Master in Public Policy at Harvard Kennedy School (HKS) as a joint degree program with her medical degree at UCSF. While completing her post-graduate training in general surgery at UCSF, Dr. Bongiovanni was a fellow in the Robert Wood Johnson Foundation Clinical Scholars program at Yale, earning a Master in Health Sciences. She then completed a surgical critical care & trauma surgery fellowship at Zuckerberg San Francisco General Hospital.
She has been dedicated to healthcare disparities throughout her career. At HKS, she worked to evaluate healthcare delivery systems in Indian Country. In New Haven, CT, she conducted community-based participatory research, understanding the cultural attitudes, knowledge and beliefs of the Native community regarding organ transplantation. The work proposed in her K award application aims to further preliminary work and expand on current research and interventions being conducted at UCSF regarding perioperative pain control and prescribing habits in the setting of the current opioid epidemic. Dr. Bongiovanni will seek to improve the implementation of research-based knowledge into real-world settings for surgical patients, especially regarding patient experience and expectations about pain control and opioid use, and prescribing habits of surgeons.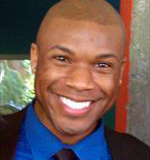 William Brown III, PhD, DrPH, MA
Assistant Professor of Medicine, Division of Prevention Science 
Dr. Brown is an assistant professor of medicine in the Division of Prevention Science at the UCSF School of Medicine. He holds faculty appointments in the Center for AIDS Prevention Studies (CAPS), the Center for Vulnerable Populations (CVP), and the Bakar Computational Health Science Institute. He is also the founder and director of the Clinical and Observational Data Excellence (CODE) Lab <code.ucsf.edu>. CODE Lab's mission is to help researchers and healthcare workers contribute to creating a Learning Health System by leveraging New Media (i.e., mHealth, social media) and Biomedical Informatics (i.e., semantic harmonization, natural language processing, machine learning, data visualization) to collect data in real-time, improve health and clinical outcomes, and integrate gathered data among and between clinical systems and other research datasets. 
Through his research, Dr. Brown develops and implements innovative biomedical informatics methods, creates digital health tools, and follows the principals of community-based participatory research to address health disparities among underserved communities, and to create a learning health system that is responsive to vulnerable populations, particularly those living with and at risk for acquiring HIV/AIDS.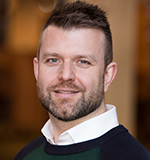 James Harrison, PhD
Assistant Professor of Medicine, Division of Hospital Medicine
Dr. Harrison is an assistant professor in the UCSF Division of Hospital Medicine. He received his Master's of Public Health from the University of New South Wales and a PhD from the University of Sydney. He joined UCSF as a research specialist before moving to a faculty position in 2016. His career has largely focused on catalyzing scholarship with non-research-trained faculty and learners by providing research expertise, mentorship and collaboration. His own research involves engaging patients and caregivers in the development of programs and interventions to improve the care, outcomes and experiences of hospitalized patients. James' Learning Health System K12 will focus on research and training that supports the goal of creating age-friendly care transitions using telehealth technologies. Stakeholder engagement, particularly with patients and caregivers, will be central to this work, ensuring a patient-centered approach to implementation.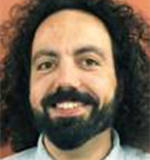 Matt Pantell, MD, MS
Assistant Professor of Pediatrics
Dr. Pantell worked at the Health Policy Center of the Urban Institute before attending the UC Berkeley - UCSF Joint Medical Program for medical school, where he earned an MD and a Master's in Health and Medical Sciences focusing on social epidemiology. He then completed his residency in pediatrics and was chief resident at UCSF Medical Center. He was also a fellow in the Clinical Research Training Program at the National Institutes of Health, where his work focused on biomarkers of social adversity. Currently he is an assistant professor in the Division of Pediatric Hospital Medicine at UCSF, a core faculty member of the UCSF Center on Health and Community, and a faculty collaborator within the UCSF Preterm Birth Initiative. His research focuses on the utility of incorporating social information into clinical decision making, addressing social needs in clinical settings, data mining and the analysis of large datasets, and biological manifestations of the social determinants of health.
About the Learning Health Systems K12 Program
UCSF is one of 11 recipients of a $40 million, five-year grant that supports faculty development in patient-centered outcomes research achieved through learning health systems. The grant is jointly funded by the Agency for Healthcare Research and Quality (AHRQ) and the Patient-Centered Outcomes Research Institute (PCORI).
At UCSF the program is administered within the Department of Epidemiology and Biostatistics and is led by Ralph Gonzales, MD and Urmimala Sarkar, MD. Inquiries may be directed to Madeline Mann, program manager.