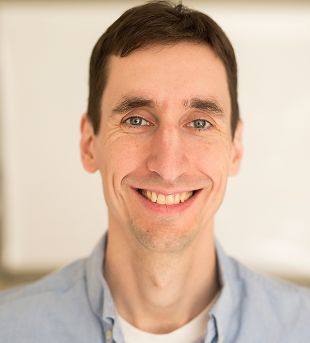 Tony Capra, PhD, will take over from Katie Pollard, PhD, as chief of the division of bioinformatics effective July 1. Since he came to UCSF only a few short – or perhaps long – years ago with a joint appointment to the Bakar Computational Health Sciences Institute, Tony has been an astoundingly productive researcher into human genetics as it relates to evolution and disease.
Capra's arrival at UCSF from Vanderbilt University was also a kind of homecoming: From 2009-2012, Capra was a postdoctoral fellow at the Gladstone Institutes, mentored by the very same Katie Pollard. Capra has gone on to become an award-winning mentor, with a particular interest in working with trainees from groups historically underrepresented in science and medicine.
"I put a focus on the needs of the trainee, building a community that can support lots of different types of people," Capra said. "I may not know or have the skills to help with every aspect of a problem, so I try to have a web of collaboration, rather than a wheel of spokes where I'm at the center. And when I'm wrong, I try to emphasize it, so mentees know they shouldn't take anything I say as gospel."
Capra received his PhD degree in computer science from Princeton University in 2009. Right around that time, biology and genetics were beginning to generate so much data that researchers could no longer analyze it by hand. They began drawing on the tools of computer science. From his position within computer science, Capra welcomed this new subject matter, ultimately finding himself more drawn to questions of human evolution and health than to conventional computational problems.
"I didn't really want to build a new app or a new operating system," he said. "I didn't have a background in genetics or biology, but I discovered that I really enjoyed being both a scientist and a computer scientist. The next thing I knew, I ended up with tenure in a biology department. I learned by doing. A lot of it came through collaborations where my collaborators taught me a ton."
His goals for the bioinformatics division are to stimulate more productive exchange at the overlap of disciplines and areas of research.
"I share the goal that many of us have coming out of the worst of COVID, which is to build community – to get all the different aspects of the bioinformatics community together to find research synergies," he said.
The isolation of COVID-19 may be felt more acutely in bioinformatics, where people often work in alone at a terminal and many also juggle multiple appointments in institutes including Bakar and Gladstone. Capra also co-directs the PhD degree program in Bioinformatics with Ryan Hernandez, PhD.
"There are a lot of opportunities that span these programs along with the EpiBiostats PhD program." Capra said.
Specifically, he hopes to find strategic opportunities to pool computational resources, hiring, and even data sets. Capra points, by way of example, to the electronic health records from UCSF Health that are housed in the Bakar Center and how much more information could be gleaned from them.
"I want to make sure we build that web of community in the division," he said. "I have a good position at the intersection of several initiatives on campus, and I want to make sure we take advantage of that."