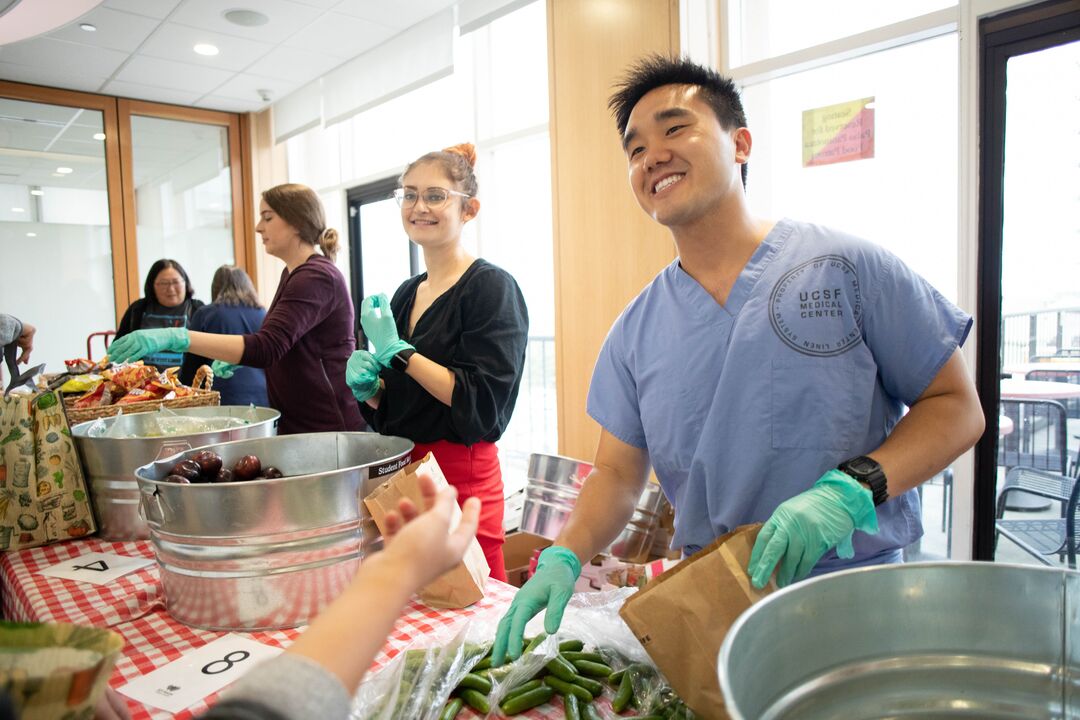 In 2015, when Suzanna Martinez, PhD, left the traditional postdoctoral path toward a faculty position at UCSF and instead took a staff research position at the UC Nutrition Policy Institute, she could not have known how much her motivation – increased financial stability – mirrored the challenges students faced or that those would continue to drive her research even after she ultimately joined UCSF as faculty in the Department of Epidemiology and Biostatistics in 2018.
Martinez's work at the Nutrition Policy Institute started when the University of California (UC) launched a Global Food Initiative to bring attention to global food challenges, with a small part of the initiative looking at food security – or lack thereof – among the system's students. Student aid covers tuition and housing, but not expenses, and as less affluent students sought college education, more students struggled to buy food, particularly after the 2008 recession when the costs of tuition and rent rose precipitously. Later research has shown that UC students also struggle to retain secure housing and to pay for medical expenses and essential hygiene items such as tampons and toothpaste.
Economic hardship on campuses is troubling because it belies universities' explicit promises to lift students into higher socioeconomic status. (Indeed, UC touts its performance in a ranking that compares colleges in terms of how their students fare economically after graduation.) Lack of food security has been linked to lower academic performance and poor mental health.
Martinez's work with colleagues on other UC campuses has spurred early attempts to address this often-overlooked need. In response to their publications measuring students' basic needs and demonstrating that access to nutritious food improves mental health, sleep, and academic performance, the state has gradually opened its coffers to confront the issue.
Martinez and her group have tackled the sprawling question of students' basic needs with a series of modest, focused research questions designed to maximize their findings' usefulness for policymakers. When the research began, the state had just carved out a tiny budget line to open food pantries on a handful of UC campuses. It has now committed $15 million per year for five years.
The group's work has also begun to influence national policy debates, as evidenced by Martinez's participation at an August 22 roundtable on food insecurity held by House Speaker Nancy Pelosi and Representative Jim McGovern (D. - Mass.) at SF-Marin Food Bank. The roundtable was intended to inform a White House conference on food, nutrition, and health scheduled for September 28, the first such meeting in more than 50 years.
"The people who are hungry in this country do not fall into a nice, neat category," McGovern said in a passionate introduction to the issue that has been his centerpiece for many years. "The assumption is, if they [students] are paying tuition, they must have money for food, but it's just not so."
Martinez's place at the table came because California has now done more than any other state to address college student need – though there's still much to do, Martinez says.
"Resources are needed for these people to be the exceptional students they came to UC to be," she said in her remarks at the roundtable.
Update: Martinez attended the invitation-only White House Conference on Hunger, Nutrition, and Health on September 28. The White House recognized the University of California's commitment to cut in half the proportion of its 280,000-person student body facing food insecurity by 2030. Find Martinez's tweets from the conference here.
The UC researchers first measured student need in a 2017 paper, finding that a startling 40% of UC students were experiencing food insecurity. The results didn't initially gain traction because 40% struck many as implausible. But the work gained credibility after a 2018 federal Government Office of Accountability assessment found, citing the California work, that up to half of all U.S. college students were living perilously close to the edge. UC responded by establishing campus food pantries as an emergency response.
In 2019 and 2020, Martinez and her colleagues published twinned qualitative and quantitative papers, adding to the body of evidence that showed that food insecurity, as one might expect, interferes with students' mental health and academic performance. Surveying students who attended the food pantries, the researchers found that first-generation college students, older and male students and Filipino/Pacific Islander students were more likely to visit campus food pantries more frequently, as were students experiencing homelessness. They asked the students if their visits to the pantries, and the healthy food they obtained, correlated with academic and health improvement. In a 2022 paper, they found they did.
A 2021 paper asked students to define basic needs, which expanded the conversation to include secure housing. Policymakers then had a rationale to direct some of the state's education budget to support rapid rehousing of students experiencing homelessness. This has also led to reconfiguring campus food pantries as basic needs centers to reflect the expanded mission.
"The 2022 paper was a part two to our 2021 paper, asking whether food pantries were helping to improve any of these negative impacts. Although it was all self-reported, we still found that the more times students went to the pantry, the more improved health they reported," Martinez said. "Policymakers want to see that the money is going to something concrete, that it's working."
Since then, the researchers have begun to focus on ensuring that low-income students can access federal benefits – such as CalFresh, the state's version of the federal Supplemental Nutrition Assistance Program (SNAP) – that are available to them.
"There are all these rules that students have to meet in order to be eligible to apply," Martinez said. "But a lot of students are eligible; they just don't know it."
Because the details of eligibility rules vary from county to county, the campus basic needs centers include staff who are versed in state regulations covering CalFresh. There has also been a push to get all UC campuses to notify students of their CalFresh eligibility status in their financial aid documents.
But some barriers are more than just red tape: In some cases, students are required to work 20 hours per week.
"I can't see how any student can fully participate in college and work 20 hours a week," Martinez said.
Martinez's group provided input to the task force organizing the September 28 White House conference and recently secured an invitation for a UC Berkeley Basic Needs Fellow.
See the update above: Martinez was also ultimately invited. She attended and tweeted from the event.
Photo by Susan Merrell